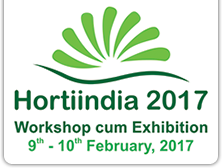 Home

Welcome to Hortiindia

A Perfect Blend of Theoretical & Practical Horticulture

Institute of Horticulture Technology organized a horti-based mega event – Hortiindia 2013 in its Technology Park on 16th -17th February, 2013 on the theme "Innovative Production Systems in Horticulture". Hortiindia is the biggest Workshop-cum-Exhibition for Technology, Innovation and Motivation in Horticulture. Hortiindia is the horticultural trade show with the most innovations in the fields of Hi-tech nursery growing, greenhouse technology, canopy management in fruit crops, production technology and post harvest management. All of this makes Hortiindia the main event for the government horticulture officials and professional growers of fresh vegetables, flowers and fruit plants. The workshops are farmer oriented and are supported by interactive lectures and field based trial demonstrations at the Institute's horticulture Technology Park. Various horticulture professionals and state horticulture departments showcase their products and government schemes in different stalls in the Exhibition.

Several international experts from USA, Thailand, Netherlands, Japan and Israel shared their field experiences in horticulture with farmers and other visitors through interactive lectures and workshops. There was a provision of a Hindi translator for providing maximum benefit to the farmers and other professionals. Hortiindia forms a common platform for farmers, horticulture professionals, academicians, scientists, researchers, managers and policy makers to exchange their views and ideas on the theme for the benefit of all the takers.



Venue

Institute of Horticulture Technology
Technology Park, G-1, Alpha-1, Greater Noida, U. P.